Revive treatments are safe water based, non toxic, non corrosive and non flammable fluids, using technology developed and used for the cleaning and maintenance of aviation jet engines, power station turbines, large marine diesel engines and now automotive engines.
The treatment is sprayed into the vehicle's intake system before the turbo inlet whilst the engine is running. As the fluid passes through the engine, the active ingredients lock on to built up oily/carbon deposits and strips away surface layers. These tiny carbonised particles are no larger than the soot particles the engine naturally generates, making the process safe for vehicles fitted with catalysts and filters.
More videos on the Revive YouTube channel
Aviation Technology
The technology behind Revive treatments was developed for the aviation industry and power generation. It's used to clean aeroplane jet engines and keep power station turbines in top working condition.
Eco Friendly
All Revive fluid is biodegradable, non toxic, safe to use and non flammable.
Easy to Use
An engine treatment is so simple to perform, the fluid is sprayed into the inlet system pre-turbo, no need to remove or dismantle the turbo, just unclip the inlet trunking.
REPAIR WITH REVIVE

Revive is used to clean engine systems that already have problems caused by soot & oily build up.
By performing three Revive cleaning doses on the vehicle, carbonised layers are removed gradually, making the engine cleaning process very safe.
Restores Economy, Power & Emissions
Cleaning the turbo and other engine internals helps restore fuel economy, regains lost power and reduce exhaust emissions.
Variable Vane Turbos
Variable nozzle / vane technology can be a major cause of turbo problems due to sticking turbo vanes, cleaning with Revive helps remove soot & oil from the mechanism to restore normal movement.
Service Shot
Preventative treatment to keep your engine healthy
PREVENT WITH SERVICE SHOT
Revive Service Shot is used to prevent the build up of soot in the engine system, it is a quick, simple one shot treatment that is used before each service.

Regular use of Service Shot helps maintain the health and operation of the engine, it prevents soot & oil build-up by removing deposits before it causes problems and is important to use on healthy engines, as well as engines that have previously been treated with a full Revive clean.
Variable Vane Turbos
Preventative treatment with Service Shot helps keep the Variable nozzle / vane components clear of soot that causes sticking and boost related issues, regular use at each service helps maintain normal movement and health.




Using Revive
Performing a full Revive clean to repair and fix problems is straight forward, quick and easy to carry out and a preventative Service Shot treatment is even quicker to perform.

Starting with a cold engine, unclip the intake trunking after the airfilter.
(This 3 step process can be completed in just 10 minutes)
Spray Revive in 3 doses of 250ml into the intake, 1st with the engine running at 2200 RPM, next at 1800 RPM, stop the engine for 3 minutes, re-start the engine then finally at 2000 RPM.
Keep the engine running for a few more minutes until the Revive has worked out of the system.
Take the vehicle for a brisk drive of about 20 minutes, this allows Revive to do its work.
The Revive cleaning process can be performed before a service, this allows the vehicle to be checked over and filled with clean oil.
More videos on the Revive YouTube channel
A proven result carried out by our Distributor in The Netherlands -

DiagnosES
This Dyno report is from a 2004 VW Transporter which was suffering from power loss and the vehicle owner decided to give Revive a try! Before he carried out the treatment, he ran a Dyno Test prior to using Revive (RED trace) and then ran a second test after the Revive treatment (BLUE trace).
These two Dyno tests clearly demonstrate the difference and the effectiveness of Revive Engine Cleaner & Power Restorer.
What the Public Say:
• "I have a vw t5 and it's been slow, sluggish and been dropping into limp mode every day since I've had it, whether pushing too hard through the gears or hitting 70 it would fail on me.. I took it to a garage and had a couple of things changed, sensors but that didn't cure it. I heard of this stuff and it arrived this morning!
I was sceptical as I'm sure a lot of people would be but I've just got back from a 150 mile trip and the transformation is amazing! Power is back through the gears, smokes a lot less out of the back and as much as I tried to get it to it would fault into limp mode!!
This product has made my van run like a dream.. I'm not affiliated with them in any way but just want to erasure anyone who may have the same problems as I used I have.. Will be buying another bottle in a years time to do as part of a service! 10/10" - Giles Hume
Michael Loveder

- "

Thank you for an amazing produc

t"
• "After my local garage ruined my Citroen C4 1.6Hdi by overfilling it by more than a litre of oil I needed to find a solution. The car smoked like mad and would not pull from 1900-2500rpm. Performance was non existent. Some internet searching brought up a few products. After siphoning out the excess engine oil the car would run through the rev range but with little power. I first tried a well known catalytic converter cleaner. Power returned at lower revs but the car was still dead from 2500 revs upwards.
I used the Revive Turbo cleaner as directed spraying it directly into the turbo intake. The following test drive was incredible. Power all the way through the rev range and particularly between 2000 and 3500rpm where it is needed most for safe overtaking. I cannot praise you enough for what is an easy to apply product which does exactly what it says it will. Thank you for an amazing product." - Michael Loveder. Maxey Cambs.
Martin Puxley - "Amazing stuff"
• "I had never heard of your Revive product until Stephen at The Cross Garage in Kirkintiloch suggested I used it to'try' and solve a year old problem on my Jag X Type 2.2 that I have owned from new! The car would go into limp home mode and over the last year I had replaced the EGR valve, fuel rail and pressure switch plus the map sensor. Revive did the trick, car ran better immediately, no Limp Home Mode. And more miles to the litre. Excellent!" - Bob Yarwood
Prithviraj - Bangalore India "A big difference. Thanks a ton"
• "The car, an Audi A6, has done 102800 miles of, in the main, motorway style driving, giving me on average 51 miles to the gallon. The power and acceleration were fine and the only problem seemed to be a bit of smoke at start up and when I accelerated away at speed. A friend then said to me that this may be due to the turbo charger getting clogged with carbon and this could lead to the turbo over boosting and giving me an engine warning light / breakdown error. As I was given details of 'Revive' some time ago I dug out the sheet to re-read the details. This seemed to be what was needed to do the job, so I booked my car in for the treatment whilst having my M.O.T test.
I was told that I may get smoke out of the exhaust for a mile or two after the treatment and this is normal, so I took it for a 'spin'. Carrying less weight in the car, as all of my works tool kit was left at home, it was difficult to judge if the car handled any different, but pulling away from roundabouts really put the fun back into driving! Was this now a new car or was I just driving it to prove the point? Only time will tell.
Now some 1700 mile further on, I can give true feedback on the performance of the car:-
Firstly no smoke, starting in the mornings and accelerating away on the motorway are smoke free. The acceleration from 50-70 MPH is stronger even carrying a heavy passenger load, you can certainly notice the difference!
I have monitored the MPG, not easy to give accurate feedback here on only 1700 miles, but the motorway MPG has increased from 55.2 to 55.4 but the town driving has stayed the same at 38.1 MPG." - Mervyn White
Michael Smith - "Sorted my turbo out, and it works great"
• "I thought I'd drop you a line to let you know how my Audi A3 2.0tdi is doing since having some issues with the turbo over boosting etc. After treating the engine & turbo with the Revive product the over boosting issues have stopped altogether and the engine now seems both quieter and smoother.
The acceleration has since improved and the car definitely has more pulling power through the gears. I have covered approximately 400 miles since the treatment at 77000 miles and there has been an improvement in the engine's economy. When accelerating hard from low speeds the exhaust no longer smokes like it used to. I'm very happy with the Revive product and would be happy to recommend it to other diesel drivers. It would appear to be a very effective product cleaning the turbo and throttle body as well as other parts of the aspirating system as well. I am sure that other users will agree that the Revive product will give a new lease of life to their engine and prolong the life of their turbos as well. Many thanks" - Philip Yeates
• Thank you to William Cam from France for sending us these two photos of his VW Golf's EGR and Throttle Body after a Revive treatment. He removed them because he had an electronic fault but he was so impressed with the result, he took the time to send them to us.
"Bonjour , je vous transmet des photo de ma vanne fer et du papillon egr traiter par Revive sur une vw golf 5 2.0l tdi 140 avec 235000km. Et voici le résultat !!!!" (Hi, I am sending you picture of my butterfly valve and egr treated with Revive on a VW Golf 5 2.0l tdi 140 at 235000km. Here is the result !!!!!)
What the Trade Say:
• "Just a quick note to say how good your Revive product is, I have used it several times now with a very good success rate, it has transformed the vehicles I have used it on. It has also saved one customer a lot of expense by not having to replace the turbo for a sticking vane fault. I will continue using your Revive product and will recommend to all our customers, I will also recommend to use this as a prevention and not just as a cleaning solution. Keep up the good work" - R&M Audi VW Service Centre - Mansfield
Habib Idrissi - "Its the best turbo cleaner for TDI"
• A Peugeot 1.9 HDI that had been suffering major running issues had be in and out of the main dealer, to a diesel specialist and a Peugeot specialist, had almost every related part changed even twice in some cases, everything failed to remove the DTCs. "As a last resort I sprayed some Revive into the inlet side of the turbo and after a short period the vehicle was running nicely again" - Autotune, Newcastle-under-lyme
Darren Gould - "Quality product!!"
• "Good product tested on a Megane scenic of + 300 000 km and it consumes less fuel and has more pick-up" - Sylvain Vauzou, France
• "You can add my name to the people who 'have used it and were very happy with its results.' A 2008 Zafira Z19DTH 112,000 miles was transformed from the sluggish response below 3K, vehicle it was. - Regards, Tony." - TA Repairs, Camberley
Derek Warwick - "Another successful treatment again today, good old Revive!"
• "Our first use of Revive was on a Vauxhall Insignia with 100,000 miles on the clock being used as a taxi so doing a lot of short journeys around the town it came to us having been elsewhere with no cure for a general lack of performance we code read the car and found it was low on boost although there was some there not sufficient for it to run properly we ran the treatment through after a gentle run up the road it was a different car to drive much more responsive the boost readings improved. the owner has been back and said fuel economy has improved and is well impressed with how it now drives. New customer gained.
The latest one i did was a 1.9tdi Galaxy it kept dropping into limp codes stored were for over boost this was proven on the road it was also down on acceleration although the customer had not complained of this. We could see the actuator rod of the turbo moving but obviously the vanes were jammed. On running Revive through the system i was pleased to have an exhaust extractor coupled as the amount of smoke that instantly poured out of it we would have been well fumigated. Upon completion a road test and it was like a different vehicle it would accelerate well and drive as well as a new one.
Had i not found Revive i would have been fitting new turbo's at horrific costs in both these cases." - Kelly Clarke Motor Services
• Andrew Avis from Greg Tunstall Mechanical in Australia kindly sent us this picture of a TDv8 RangeRover. They only treated one side of the twin EGR system with Revive, then inspected the two sides and compared the difference: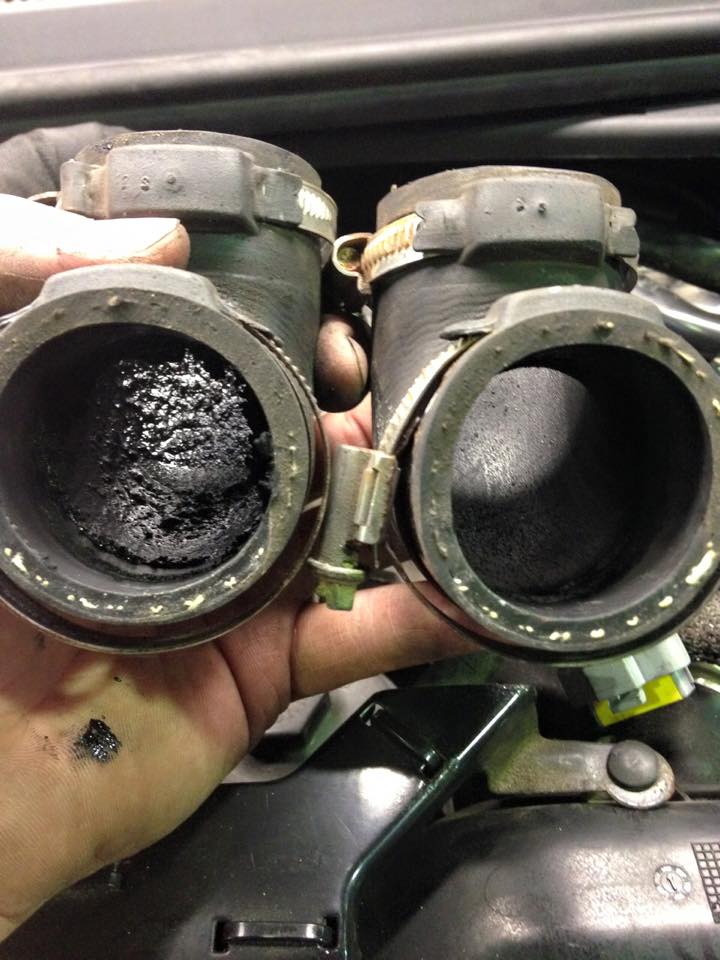 • "Pd150 leon. In for map. Overboost limp mode. Do a Revive diesel cleaning treatment on it and all good after. Nice product which actually works!! Blue plot limp mode cause by overboost from stick vnt. Revived is the red plot. Logs of requested and actual boost showing the gains in boost control": -Badger 5 Ltd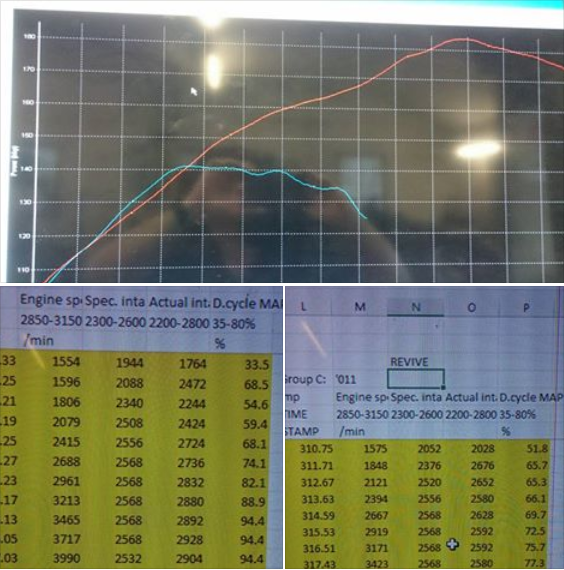 Where to purchase Revive:
UK, Ireland & Channel Island Distribution


Revive is stocked by all good UK automotive parts distributors; ask your local distributor about Revive. Contact us if you are having problems sourcing Revive locally.
International Distributors:
Australia & New Zealand: British Motor Imports PTY
Tel: + 61 (0) 2 4587 7807 - Web: www.revivemyengine.com.au

Belgium: BVBA Garage Verheyden en Co. Wersbeekstraat 42a, 3391 Meensel Klezegem, Belgium
Tel: +32 (0) 16640155 - Web: www.turboclean.be - Email: This email address is being protected from spambots. You need JavaScript enabled to view it.

Canada: Part-Stop, 10 South Ave, Spruce Grove, AB T7X 3B1, Canada
Tel: +1 780-962-0088 - Web: www.reviveturbocleaner.ca - Email: This email address is being protected from spambots. You need JavaScript enabled to view it.

Denmark: Autotek Danmark AsP, Lejrvej 17, 3500, Værløse, Danmark
Tel: +45 31 40 03 33 - Web: www.reviveturbocleaner.dk

France: Frades Technologies, 27 Avenue du Marechal Leclerc, 33127 Martignas sur jalle, France
Tel: +33 6.61.10.10.04 - Web: www.diag-auto.com
Germany: Bartec Auto ID GmbH
Tel: +49 (0)6036 989 5057 - Web: www.turboreiniger.de Email:

This email address is being protected from spambots. You need JavaScript enabled to view it.

Greece: K. Angelopoulos & Co. St. Sava 11, 10447 Athens, Greece
Tel: 30.210.345.8598 - Web: www.bestsynthetics-eshop.gr
Hong Kong: Aeromotive Solutions Ltd.
Tel: +852 5246 8504 - Web: www.reviveturbocleaner.hk Email:

This email address is being protected from spambots. You need JavaScript enabled to view it.

Indonesia: To be announced
Italy: Stefano Marconi (Agent) Via Giulio Cesare,2. 25015 Desenzano del Garda (BS)
Tel: +39 0309119899 - Mobile: +39 3923026794- Email:

This email address is being protected from spambots. You need JavaScript enabled to view it.

Malaysia: Automotive Synergy Inc. Sdn.Bhd. Unit 103,Block C , Damansara Intan. 47400 Petaling
Jaya, Selangor Darul Ehsan. Malaysia
Tel: +60 37118 3633 - Web: www.automotivesynergy.com - Email: This email address is being protected from spambots. You need JavaScript enabled to view it.

Mexico: To be announced
Norway: T. Sannes Konsulting
Tel: +47 91168359 - Web: www.reviveturbocleaner.no

Philippines: SIXFIFTY Trading Corp. 101 Matutum. Cor Mauban St. Quezon City. 1115. Philippines.
Tel: +63 917 525 3828 - Web: www.reviveturbocleaner.ph

South Africa: Revive South Africa, 19 Guinea Fowl Street, Signett Office Park, Lenasia
Tel: - +27(83) 525 6858 Web: www.reviveturbocleaner.co.za - Email: This email address is being protected from spambots. You need JavaScript enabled to view it.

Spain : Distributor Wanted - Distribuidor Buscados
Sweden: Kingdom Work AB , Sodra Promenaden 106. 60234 Norrkoping. Sweden
Tel: +46 73 153 99 70 - Web: www.reviveturbocleaner.se - Email:

This email address is being protected from spambots. You need JavaScript enabled to view it.

USA: Peract Systems, USA
Tel: +1 408-502-6REV (6738) - Web: www.revivemyengine.com - Email:

This email address is being protected from spambots. You need JavaScript enabled to view it.
Worldwide headquarters:
Revive is maufactured and distributed globably from our worldwide headquarters by Revive Automotive Solutions Ltd, if you can not find a outlet in your country please contact us directly.
United Kingdom: Revive Automotive Solutions Ltd, Unit 2 Atworth Business Park, Bath Road, Atworth, Wiltshire, SN12 8SB, UK
Tel: +44 1225 701920 - Web: reviveturbocleaner.com - Email: Contact Us
Online:
If you cannot source Revive locally, you can order directly from us, just call +44 (0)1225 701920